WORK ANYWHERE LIVE HERE
The Station Tioman
About Us
Quaint ac

commodation for Nature Lovers and remote workers alike
The Station Tioman is located in Tekek Village on Pulau Tioman, Malaysia. We offer quaint and rustic accommodation on and by the beach especially for couples, solo travelers and remote workers.
Our Beach Chalets have a double bed and are perfect for a romantic island getaway for two. These are located on an almost private beach, at the South end of Tekek. We have WIFI in all our rooms for guests who are able to work remotely and want to work, play and live on one of Malaysia's most beautiful holiday islands.
Our Garden Chalets are stand-alone units that face into our tropical garden. All our Beach and Garden chalets have a desk and chair, which paired with excellent WIFI, makes them ideal for guests who work and travel.
Some of our Partial Seaview Rooms have 2 beds, which is great for two friends traveling together. Although not directly on the beach, these are sea-facing, and just a few steps from the beach. These too have great in-room WIFI.
There are many beautiful islands in Malaysia, however thanks to excellent high-speed internet, in a truly amazing tropical setting with a living reef and vibrant jungle, Tioman is the best island to plan a longer stay with your laptop and enjoy a workcation in Malaysia!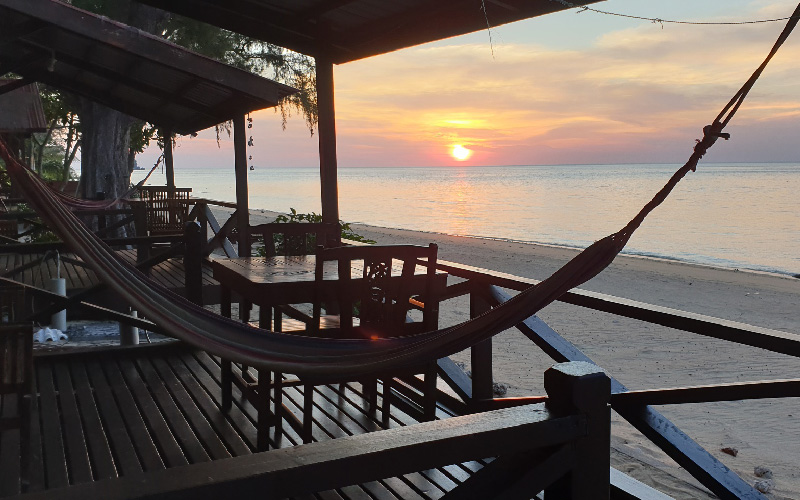 Beach Chalet
Located directly on the beach our Beach Chalets provide guests with an idyllic view of sand and sea. Each chalet accommodates 1-2 persons making it perfect for an individual traveler or a couple.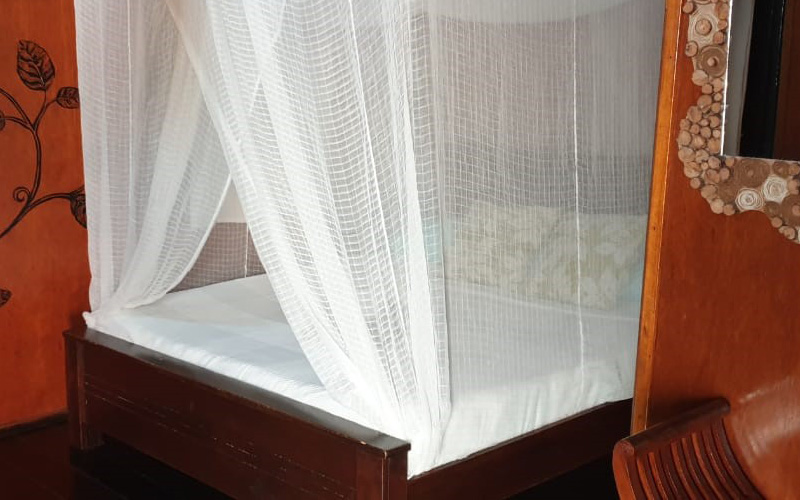 Garden Chalet
Set in our tropical garden, our Garden Chalets offer a lovely home in Nature. Each chalet accommodates 1-2 persons making it perfect for an individual traveler or a couple.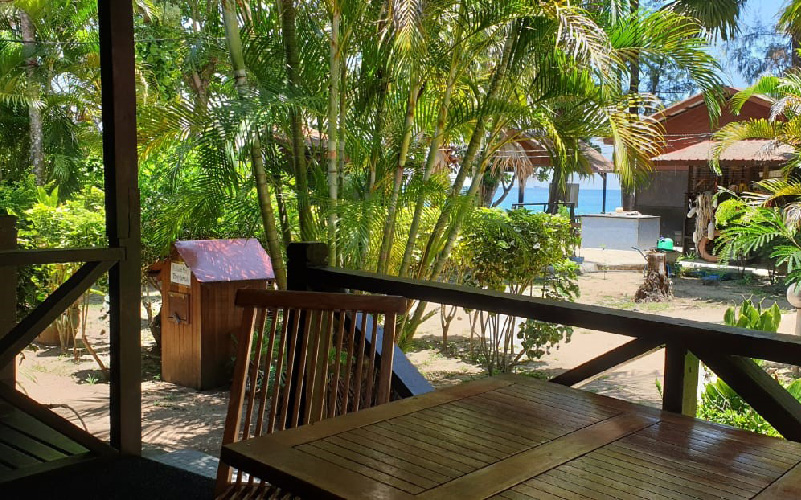 Partial Seaview Room
Our Partial Seaview Rooms are just a few steps from the beach with a view of both garden and sea. Each Partial Seaview Room has a single and a double bed which accommodates 1-2 people, making it ideal for an individual traveler, 2 friends or a couple.
A little piece of paradise. Lovely beach, friendly owner and staff, very good vibes. ☺ The Tioman Station was simply perfect. It is located on a lovely beach and some decent snorkelling is possible right in front of the Station. We had a Garden view cabin (no ocean view available) but it really didn't bother us. The cabins are so close to the beach that it makes no difference in the end. The Station has a restaurants for lunch and light dinner and we really liked the yummy baguette sandwich and cocktails. They have beer and refreshments has well. The Station is really close to the core of Tekek where you can find restaurants, grocery stores, diving schools, duty-free stores, etc. I would go back every year if I could.
Le meilleur de Tioman ☺L'emplacement sur la plage. Le snokeling directement sur la plage. ☹Le voisinage avec un centre de plongée un peu bruyant

Life is a beach ☺Nous avons apprécié la vue magnifique du bungalow sur la plage, la situation à la sortie de Tetek, l'accueil chaleureux et les bons petits déjeuners servis à côté du resort. Merci à vous ☹Rien.
Very relaxing with a wonderful view and beach ☺ Cottage in a wonderful location. Directly on the beach, there is everything one needs for a relaxing vacation. They offered me a well organized day of snorkeling, with pick-up just in front our room with boat. ☹ No cocktails. It would be appreciated to find in the room some touristic flyer (maps, activities, etc)
Exceptional
Séjour parfait ☺Séjour parfait. Hôtel tranquille et plein de charme juste à côté d'une jolie plage très propre. Personnel très sympathique et compétent. Merci beaucoup à Hildi et Yoi de nous avoir aidé à régler nos problèmes de transport vers et depuis Mersing. Très bons sandwichs au café de l'hôtel. Bon wi-fi. Six jours merveilleux sur cette île magnifique et préservée.

Very good

Bei Renovierung gerne immer wieder! ☺Die Lage, der Strand und die Insel sind traumhaft. ☹Die Ausstattung ist in die Jahre gekommen und es müsste investiert werden

☺Super Lage, sehr freundliches und hilfsbereites Personal. Direkt an einem sehr schönen Strand, alles sehr naturnah und ursprünglich. Es lief alles sehr unkompliziert. Gratis Willkommensgetränk.

☺Großartige Lage, in einer kleinen Hütte direkt am Strand. Besser geht es nicht. Tolle Gastgeberin - Danke an Hildi die sich um alle Wünsche kümmert. Schnorcheln im Riff direkt vor der Unterkunft - keine Tour muss gebucht werden. EInfach klasse ☹Die Hütten sind teilweise ein wenig hellhörig

Super lieu, mais quand même assez spartiate. Dommage que le bar soit pas un peu plus sympa. On mange correctement, mais ce serait facilement améliorable…
Roland Wubembe
2023-08-28
We loved it so much here we extended our stay by a week! The place is very relaxing and the staff are welcoming. Hilde is super helpful at recommending things to do and places to eat. The chalets had everything you needed and the beds are so comfy. We hope to visit again in the future and would definitely recommend.
Nous avons vécu un superbe séjour à Tioman dans ce lieu, dont le personnel est profondément à l'écoute et attentionné.
Splendida posizione in riva al mare. Spiaggia eccezionale. Possibilità di fare snorkeling e vedere tartarughe e pesci colorati. Comodo per raggiungere a piedi negozi e ristoranti e il porto. Gestione familiare, tranquillo e con piccolo bar che mette ottima musica di sottofondo. Sconsigliato solo a chi ha "la puzza sotto il naso"????
Wir hatten hier eine tolle Zeit und haben uns sehr wohl gefühlt. Für uns war es die perfekte Location für ein paar Tage ausspannen auf Tioman.
Yannick Nestle
2023-07-30
Sehr gute Unterkunft mit top Lage. Nur 10 Minuten zu Fuß vom Hafen Tioman- Tekek entfernt. Ebenso sind auch einige preiswerte und leckere Restaurants und Scooter Verleihe in der Nähe. Der Strand direkt an der Unterkunft ist wunderschön und es sind fast keine Leute hier. Der Kontakt mit der Unterkunft läuft auch sehr gut. Schnelle Antworten und sowohl vor als auch während dem Aufenthalt wird immer geholfen und Tipps zu Aktivitäten, Transport etc. gegeben. Wir haben zum Beispiel eine Jungle- Trekking Tour gemacht und einige Chamäleons gesehen. Vielen Dank auch an das nette Team vor Ort!
Alexander Streif
2023-07-17
Oke I am not surprised about your reaction you do not know what customer care is ..
Superbe séjour dans un lieu paradisiaque. Avons bp apprécié nous endormir au rythme des vagues . Merci à vous ????
CORINNE BOURDON
2023-05-31
Perfect location, rooms are clean, reef in front for snorkelling, amazing place that won a place in our hearts
Carolina Villela
2023-05-20
Le confort s'apprécie aux détails, aux attentions. Tout y est. Les chalets sur la plage (à privilégier pour l'expérience unique). La plage presque pour vous seuls et avec des coraux et des poissons à moins de 50 m du bord. Une mer à 30° toute calme. Quant à Hildi la propriétaire et gérante des lieux, qu'elle soit là physiquement ou pas elle est toujours à vos côtés par whatsapp ou par l'intermédiaire de son factotum Yoi qui joue son rôle à la perfection et avec une grande gentillesse. 5 jours passés dans ce petit paradis ne peuvent que vous inciter à y séjourner. Jacky
Verified
Zum Entspannen ganz OK! Dieses Hüttchen am Strand besticht durch seine Lage am Meer und den kurzen und zentralen Weg vom Jetty Kekek. Luxus darf man allerdings nicht erwarten, es ist sauber und für ein paar Tage am Strand ganz ok. Gleich nebenan gibt es ein passables Lokal.
Verified
Absolutely fantastic location. There may be no better place to watch the sunset. Comfortable, understated accommodation in keeping with the location. Not some huge hotel that looks transplanted from elsewhere; this is a proper island experience with welcoming, knowledgeable staff.
Verified
My favourite place during my visit to paradise (= Tioman island) It took me quite some time to get back here, but my visit to paradise - erm "the Station Tioman&cafe" - has left such a lasting impression, that I believe the owners still very much deserve this feedback: Went there with my brother shortly after the opening-up after the pandemic had started and this place of beach on this wonderful island is simply paradise. With the friends we made at the station cafe with its relax-mood drinks, we saw several times a turtle swimming so beautifully out there just a few meters into the water with simple snorkelling. The sunset is unbeatable, but it is a nice - soul dangle (Seele baumeln in German) place throughout the day. And the little huts for staying the night are cozy and very much to my liking. It is a down-to-earth place as I like it - simple, heartfelt, without all the things you actually never need and spend you precious time upon. The owners speak also excellent Swiss-German and have also been very helpful with recommending other activities on the island or nice (and above all "delicious") food options in other places around the island. Never had such a relaxing holiday as this one in 2022...hope to go there again, although it was much easier from Singapore than now back in Europe..
Verified
Cottage sulla spiaggia e ottime vibes Cottage a diretto contatto con una bella spiaggia, facilities essenziali ma curato per farti sentire a casa. Una nota particolare la merita la giovane proprietaria che riempie gli ospiti di attenzioni , sempre sollecita, sorridente e efficace.Consiglio questa soluzione a coloro che desiderano stare a contatto con la natura in relativa semplicità, in una atmosfera familiare.
Verified
Gemütliches Resort zum Entspannen Ob du einfach Entspannung an einem abgelegenen Insel Paradise, oder auch einfach deinen nächsten 'work from anywhere' Ort, suchst, dann bist du bei 'The Station' auf Tioman genau richtig! Du wirst von den zwei Gastgeberinnen, Hildi und Marcella warmherzlich begrüßt und während deines Aufenthalts mit allerlei Leckereien aus dem Beach cafe, Ausflugs-Tipps (wie Jungle Trekking oder Island Hopping), und natürlich dem kristallklarem Wasser, bestmöglich versorgt. Die Chalets sind geräumig und verfügen über komfortable Betten, angenehmen Wasserdruck in der Dusche, einer großen Terrasse mit Sitzmöglichkeiten und einer Hängematte. Selbst wenn du die Hitze ab und zu entfliehen möchtest, ist dies auch in den Ventilator -und klimatisierten Zimmern möglich! Stabiles Internet wird natürlich auch angeboten. Ich kann es nur jedem weiterempfehlen!
Verified
Great beach getaway We had a lovely three days at The Station - very much enjoyed the beachfront chalets, sundowners and relaxed pace of the island. The chalets were a cut above some we've stayed in - comfy beds, hot water, decent air conditioning and for a few extra ringgit we had a mini-fridge in one room, handy with the duty free shop just across the road. Some good snorkelling too - the house reef has decent coral directly off the beach and the short boat trip to P. Rengis was worthwhile, seeing a turtle, some small black tip sharks and loads of fish. Hosts Hildi and Marcella are wonderful - super friendly and helpful, going out their way to refill our water, share tips about Tioman and breakfast next door at Swiss Cottage was handy and hit the spot. The Station's bar does snacks and drinks, with decent meals next door at the dive centre or just across the road. If Singapore didn't have such strict restrictions on subletting our flat I expect we would be semi-resident here for weeks at a stretch working remotely on the excellent wifi - even now that sounds super appealing and I'm itching to go back!One word of warning (nothing to do with The Station, mind) - open restaurants on the island were still thin pickings when we visited (early May 2022) - we ended up eating at the same place three or four meals and waited best part of two hours for our food another night as the other restaurant in Tekek was really busy. All part of the charm of island life - but didn't feel that charming when ravenous at 9PM! So plan ahead and maybe don't wait for the sun to go down before looking for food. But I'm sure that is getting better by the week as more tourists come back.
Verified
Great place to completely relax and absorb island life. At a 1.5hr hop away from Kuala Lumpur this place is the perfect getaway for couples and families. We thoroughly enjoyed the sea, new connections, nature walk and just overall relaxation. Our 7yo kid spent most of the trip exploring the sea whilst his brother built sand castles. I would totally recommend this place. We also enjoyed the company of the hostesses as well as some of the guests staying at the resort.One note for those visiting Tioman. Currently, there's a shortage of staff on the island, so you may end up changing dinner plans due to the limited opening hours of restaurants.
Verified
The Station: Familiäres Resort am Traumstrand auf der Insel Tioman The station is a small resort on a stunning sandy beach in Tekek. Only ten minutes by car from the jetty and the airport in Tioman.The chalets are simple but very clean. Each bungalow has a wooden deck and chairs. You can also sit at their bar at the beach and watch the awesome sunset. It is very romantic. So make sure if you go to Tioman to stay with Hildi and Marcella @The Station They are by far the best hosts on the island. They will become your family! Hildi and Marcella greet you with a warm welcome ???????? and make your stay there very pleasant and enjoyable. They offer a lot of activities, fun snacks like quiche, croissant ???? and brie or even a floating bar with champagne ????! Fun! If you want they will prepare breakfast and fruit snacks for the snorkeling tours. They try to make everything possible for you!Book in advance, they are mostly booked out! Especially the three bungalows with full ocean view.Enjoy and say hi from me!
Verified
Beautiful and chill Very nice place in a good location, good for staying or just come for a drink. Friendly hosts, beautiful beach. They will help you organise activities on the island. Jungle tour highly recommended. Would definitely come back again, with SKS flights now its even easier.
Verified
Best beach chalet to relax and work We've seen quite a few island destinations in Malaysia by now, but would particularly like to recommend The Station Tioman as a gem on Tioman Island. The location is unique, walking distance to Kampung Tekek and with a house reef worth seeing.It is very positive that the Internet connection (especially in contrast to other places on the island) is very powerful, here the dream of working from anywhere can come true.Hildi and Marcella serve perfect coffee in the morning and delicious specialties in the afternoon. They are also happy to help organize excursions.We have already recommended The Station Tioman several times and will definitely spend a (short) vacation there again.
Perfect place to base oneself in Tioman whether for a scuba/snorkelling trip or a long term remote office setup. Super welcoming owner, great amenities and charming beachfront bungalows. Will be back to have more of that yummy home-made ginger beer on the floating bar!
Perfect spot for an awesome meal by the beach front
& watching the world go by! Friendly staff & relaxed vibes
. Highly recommended